A kitchen layout can run from simple to complex, but either way, The Cabinet Face has your design needs covered with custom kitchen cabinet components. Click on any + below to view more information about our specific components for the IKEA® Sektion cabinet system. Transform your kitchen cabinets with beautiful doors, panels, toe kicks, and more made with quality materials.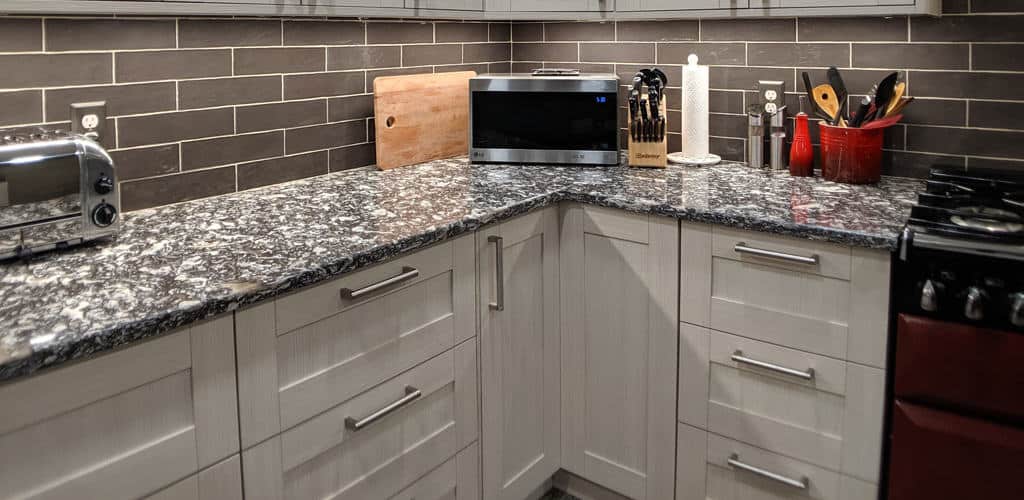 Doors and Drawers
Our doors and drawers make up the bread and butter of most orders we get, and are available in flat panel or shaker style.
Like IKEA, we produce our doors and drawers 1/8″ shy of stated dimensions so they can open and close seamlessly. An 18″x40″ door from IKEA actually measures 17 7/8″ x 39 7/8″, so ours do too.
Why the gap? If you were trying to fit two doors next to each other that measured exactly 18″ x 40″, they wouldn't be able to open. They need that tiny space to be able to swing open and shut smoothly without rubbing up against or catching on neighboring fronts.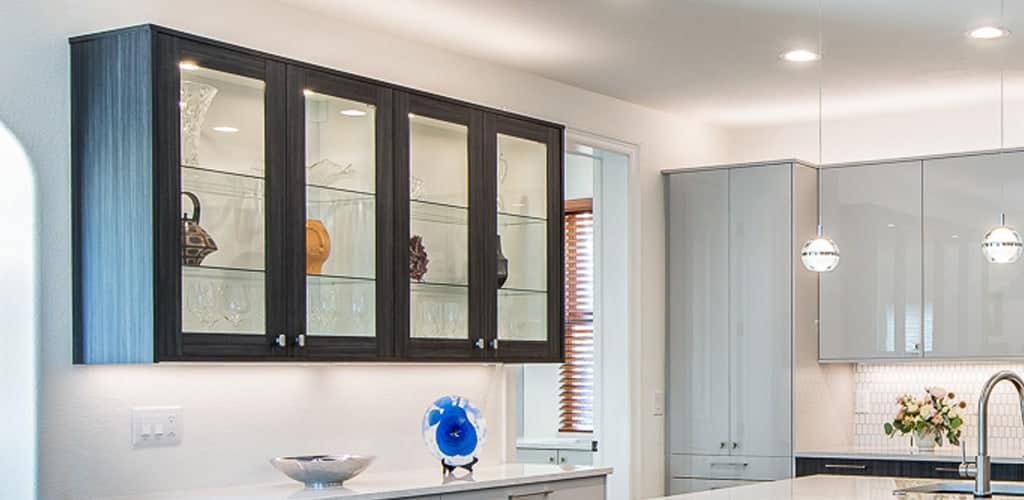 Glass Doors
We manufacture shaker style glass doors in standard and custom sizes. A standard size is a size already offered by IKEA, like an 18×40 glass door. A custom size glass glass door would be a 36×15 horizontal door, for example, since that is a glass door size not produced by IKEA. We are happy to manufacture custom glass doors, but because they have not gone through extensive testing, we cannot cover them under warranty.
Due to the delicate nature of glass, and because of the many opacity options available, we do not include the actual pane of glass with our doors, though we do include rubberized molding for easy install of your glass panes. We recommend ordering your glass from your local glass or hardware store after you've already received your door fronts, so that your local glass manufacturer can verify any measurements.
All glass doors are manufactured in the shaker style – an assembled frame with the center section removed. If you're interested in a flat panel with a cutout, please contact us. Some parts may be manufactured in a flat panel with a cutout for an additional charge (due to the complexity of creating a custom cutout and the necessity of using more material).
Our acrylics and melamine glass doors can accommodate one pane of glass, with no mullions. (Mullions are bars that create separation in the glass.) Our wood doors are available with no mullions, but can also be manufactured with 4 and 6 mullions.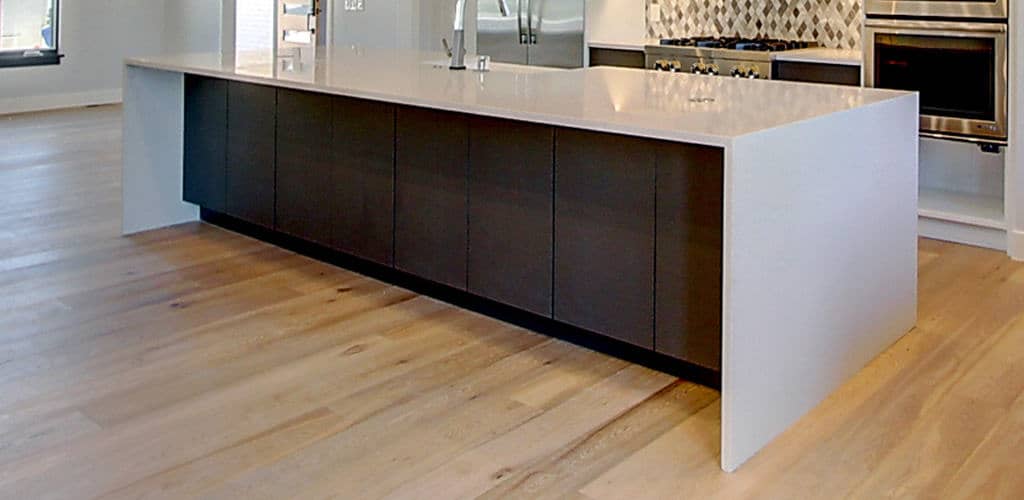 Panels, Fillers, and Spacers
Because walls are rarely perfectly straight, and have things that stick out like baseboards, our panels for Sektion are oversized, so you can scribe them to fit against the wall exactly. They are meant to sit proud, or ever-so-slightly past your cabinet faces, for a built-in look.
Our filler pieces are also meant to be cut and scribed. They are manufactured 10" wide, and are used to fill in gaps between your cabinet and the wall (IKEA recommends a minimum of a 2" gap).
Spacers are 4.5" wide, and slide between cabinets, like a book on a bookshelf. Because they're ¾" thick, like all our products, they can mimic the look of a panel without the pricetag. We suggest adding spacers on either side of your dishwasher, as IKEA recommends a moisture barrier there.
Toe Kicks and Trim
Our toe kicks measure 95" long and 4.5" high. IKEA toe kicks are designed to attach to IKEA cabinet feet without separate hardware. To get our toe kicks to clip on to IKEA cabinet feet, you can buy a cheap IKEA toe kick, cut it into pieces, and glue the pieces to the backs of our toe kicks. Once the IKEA toe kicks are attached to our toe kicks, our toe kicks can clip onto the IKEA cabinet feet.
Our flat deco strips measure 95" by 4.5" as well. They're ¾", like all our products, and are installed flat against the cabinet box to trim out the tops or bottoms of your upper cabinets. We also offer a miter fold option, for when you want more than just a ¾" frame around your cabinets.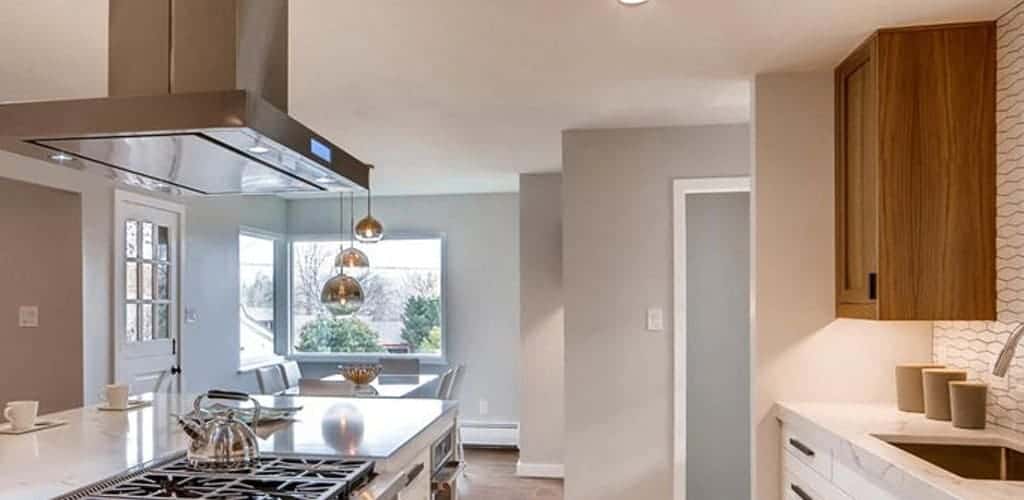 Miter Fold Options
A miter fold is an L-shaped fold meant to help fill spaces, like the space between your refrigerator and your cabinets, or the space above your cabinets and the ceiling. These can also be used to replace the IKEA deco strips, crown molding, or light valances.
Our standard miter fold light valance piece is 2.5″ on one side, and 3.5″ on the other, so you have some versatility during installation. Its most popular use is to hide under-cabinet lighting systems installed beneath upper cabinets.
We can also produce custom miter fold pieces anywhere from 3″ to 7″ tall.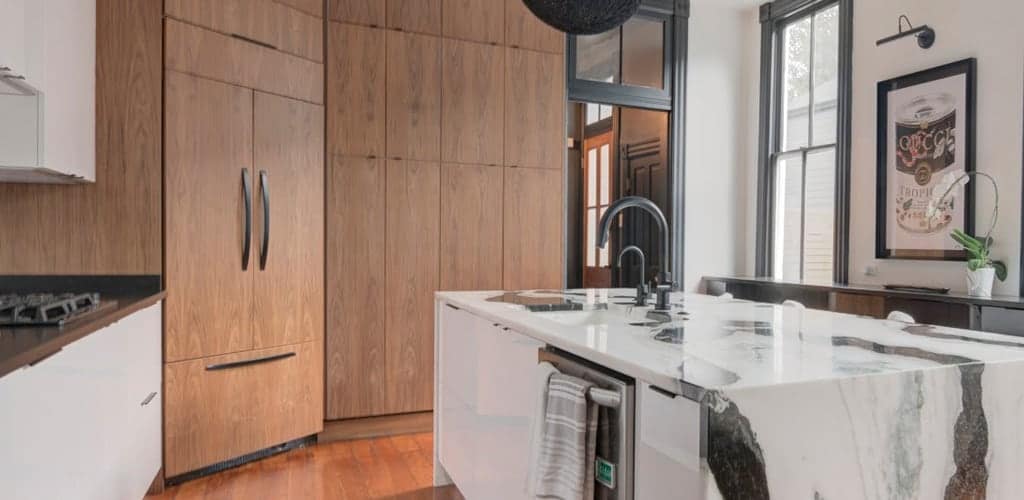 Appliance Panels
We can make appliance panels for panel-ready appliances, like a fridge or dishwasher. You'll need to send us the spec sheet from the appliance manufacturer, so we know what dimensions to make your panel.
Appliance Fillers
Appliance fillers are useful if you want to install a microwave into a lower cabinet, or a wall oven unit, for example. It's rare that your appliance will fit perfectly in your IKEA cabinet box, with no gaps. To cover those gaps, we offer appliance fillers in three widths (24", 30″ and 36"). Our appliance fillers are 5" tall, and come with extra edge banding. You can cut the filler to fit the gap exactly, and then apply the edge banding onto the cut edge for a more finished look.
Custom Parts
While all of our parts are manufactured to fit IKEA cabinets, we understand that occasionally a custom part may be required to finish your project. Whether it's a built-in unit you want to integrate into your kitchen, an island that needs custom side panels, or a door for an IKEA cabinet box you've cut down, we can supply the part you need.
All measurements for custom parts must be provided by the client. Because we can't measure your space, and can only work off of the dimensions we are given, we cannot assume liability for any incorrect measurements.
We cannot make wood or DIY custom parts narrower than 4.5", and acrylic or textured melamines parts narrower than 3″, due to the minimum width we can edge band. We also cannot make parts taller than 95", due to the maximum size of sheet goods available.